Hospitality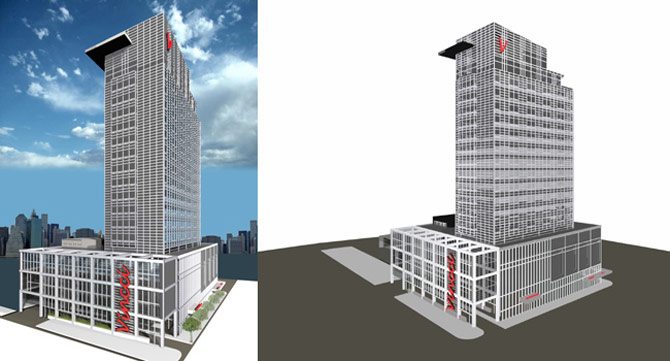 Proposal to develop 208 room, 120,000 square foot luxury hotel tower with world-renowned affiliate, Vincci Hotels. The hotel, located ten minutes from Midtown Manhattan, takes advantage of the spacious footprint, offering panoramic views of the city and river, and its vertical thrust gives Vincci an iconic, sophisticated presence easily visible from the East side of Manhattan. The design concept intends to appeal to an elegant, refined traveling sensibility. Included in the proposal are two signature restaurants, contextualized retail space, a 25,000 square foot special events amphitheater and conference center.
Designed a heavily trafficked 120 room hotel and conference facilities for in-transit business as well as extended stay guests near La Guardia Airport in Queens, New York.  Wingate is a Wyndham Hotel company.
Mississippi waterfront development including 200 room hotel, casino and entertainment facilities, restaurants, and boardwalk. Multi-level parking for 500 cars. Renovation and expansion of existing marina.
Currently in the planning phase, this 293 room hotel is located one block south of Ground Zero. Designed to service the
Wall Street business community with access to state-of-the-art technology.