Mixed-Use Development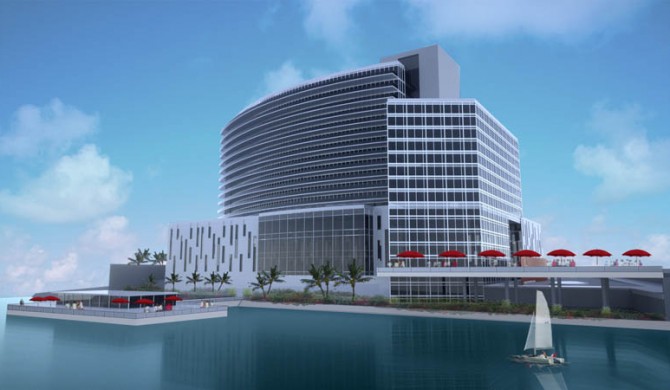 Mixed use development comprising of:
466 car 2-level parking garage
25,000 sq meter retail center with atrium facing Atlantic Ocean
104 room 8 story luxury hotel
40,000 sq meter 12 story condominiums
Amenities include tennis courts, recreational areas, pool and deck, and floating music barge
To be developed in two phases encompassing both sides of the river. Development on the right bank comprises the expansion of the existing Broadview hotel.  The addition of 369 rooms plus ancillary facilities will bring the total capacity of banquet halls, meeting spaces, special events and conference facilities to 84,400 SF. The building will also include new restaurants and bars, a state-of-the-art-spa and health club, and a public glass-enclosed atrium facing the river that will accommodate exhibits and special functions.  On the left bank of the river we are proposing a new, modern development including a 900 room hotel, 271,800 SF of retail space, a theatre, and a walkthrough aquarium and other attractions, intended to create a destination for visitors to Wichita. The complex will also offer a variety of eating experiences with bars and restaurants designed to highlight local cuisine as well as international favorites.
Conceived as one of New York's most exciting destinations, a holistic approach to the multi faceted needs of the contemporary urban landscape, specifically to the lower west side of Manhattan.  Three levels of activities comprising 250,000 SF.  A first class performance venue for 5,000 people, recording studios, TV broadcasting, restaurants, retail and a roof top with glass pavilions, outdoor playgrounds, and public spaces.  100 slip marina and docking for historic vessels.
Mixed-use complex developed as a model for a new generation of urban renewal projects, scaled to complement the city architecturally, drawing energy from the cultural and artistic heritage as well as the contemporary fabric of the city. Key aims included using the waterfront as a backdrop for the project, allowing full public access, and creating a destination with emphases on visual art, music and performing arts. 80,000 SF major indoor flexible space for activities such as roller hockey club competitions, soccer, climbing competitions, gymnastics exhibitions, etc., 20,000 SF of specialty shops, 30,000 SF of restaurants, theaters and clubs, 250 condominiums in townhouses and low rise loft buildings, a 60 slip marina, river cruises terminal, and docking for historic vessels.
100,000 SF state-of-the-art office building in Romania's second largest city, developed for the needs of the growing business class.
Located on the shore at the foot of Palm Jumeirah Island, this development proposed 911,675 SF tower soaring 91 stories above the sea level. Incorporating 15 levels of parking with electronically programmed valet, 7 levels of extreme-luxury boutiques, 28 levels of hotel with 140 luxury suites topped with duplex and triplex condominium units, spa, roof terrace and other amenities.